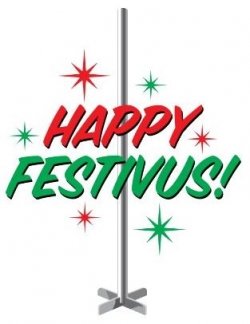 Festivus is traditionally celebrated on December 23rd. In 2012, the first year we celebrated Festivus at the Grey Lodge, the 23rd was the Sunday before Xmas. We had so much fun we decided to celebrate Festivus again in 2013, once again on the Sunday before Xmas which was the 22nd. That worked out too, so that's when we do it.
So now every year at the Grey Lodge, we observe Festivus on the Sunday before Xmas. It's kind of like Washington's Birthday on old calendars with Washington's Birthday (Actual) and Washington's Birthday (Observed). If you have a problem with that, be sure to air your grievance at the appropriate time (see below).
We celebrate Festivus the traditional, old fashioned way with all the trimmings including the beautiful unadorned aluminum pole, a meatload dinner, and Feats of Strength. We are still looking for a fruitcake to display (but not eat).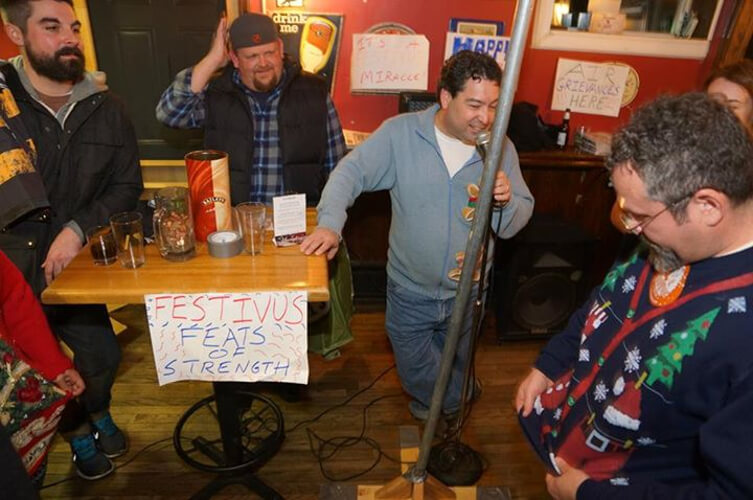 We next celebrate Festivus on
Sunday, 18 December 2016,
6 to 10pm.
Feats of Strength
It wouldn't be Festivus without Feats of Strength. We will have prizes for the greatest feats.
Holding the Big Mug o'Pennies was a hoot so we'll be doing that again. Arm wrestling will be back too.
We know that holding a big mug o'pennies isn't in everyone's wheelhouse, so you are welcome to demonstrate your own Feat of Strength. For the last two Festivuses, Andrew Jardel balanced a stool on his chin, which was really cool and only a little bit scary.You have a whole year to work on your feat of strength for Festivus 2014.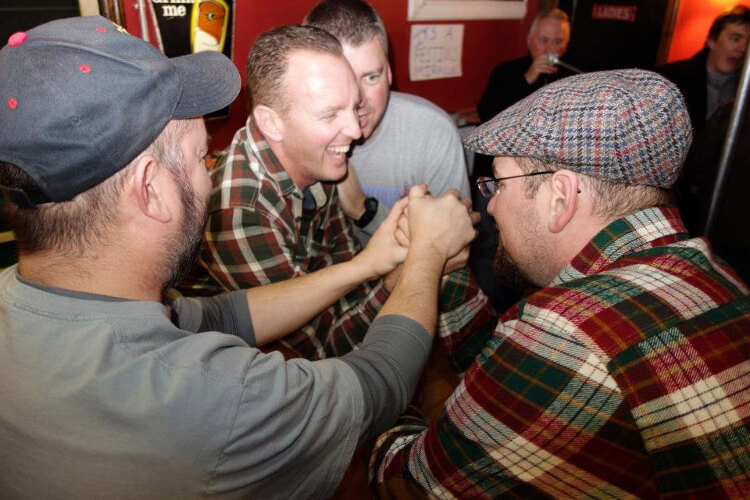 Airing of Grievances
The other big part of Festivus is the airing of grievances. Once again we will have an open mic for you to air your grievances as effectively as possible.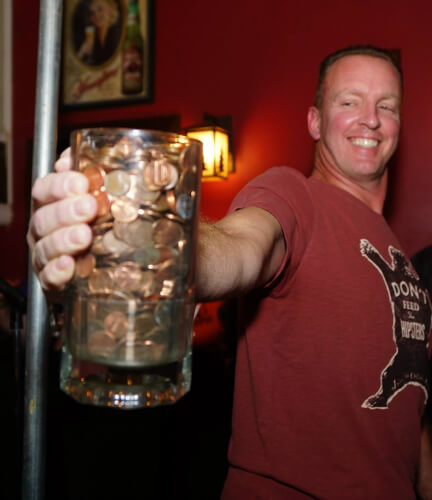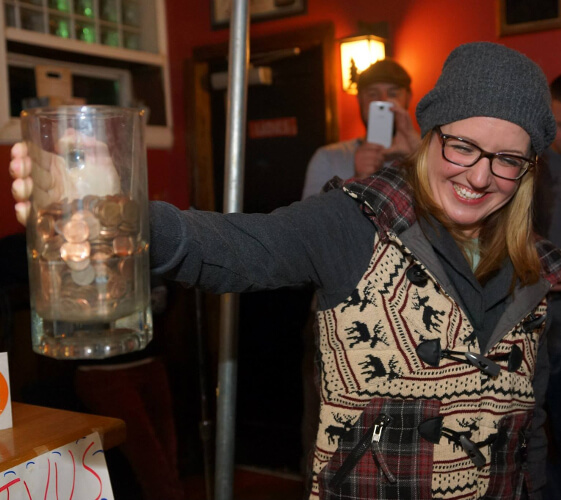 Ugly Sweaters
Break out your ugliest sweater for Festivus. When else do you have a good excuse to wear it? We will have prizes for best ugly sweater, nicest ugly sweater, and best homemade ugly sweater.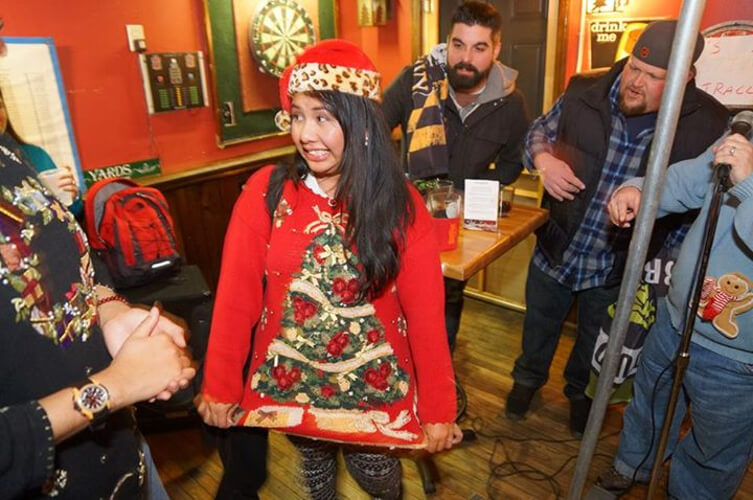 Live Xmas Music - Surf Rock Style by Rey Rico
Rey Rico will be surf rocking Xmas music.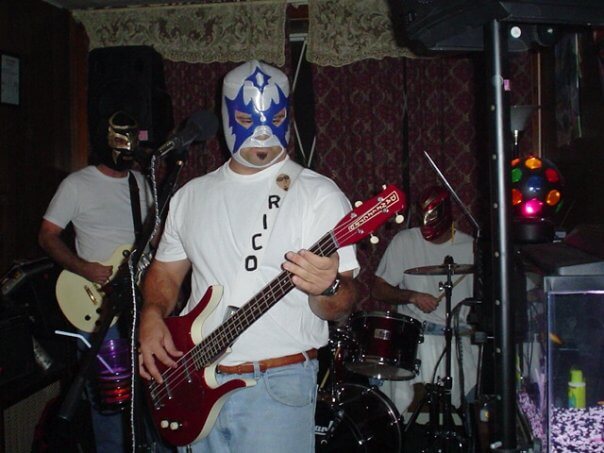 Festivus Miracles
Keep your eyes open for Festivus miracles. We spotted several last Festivus.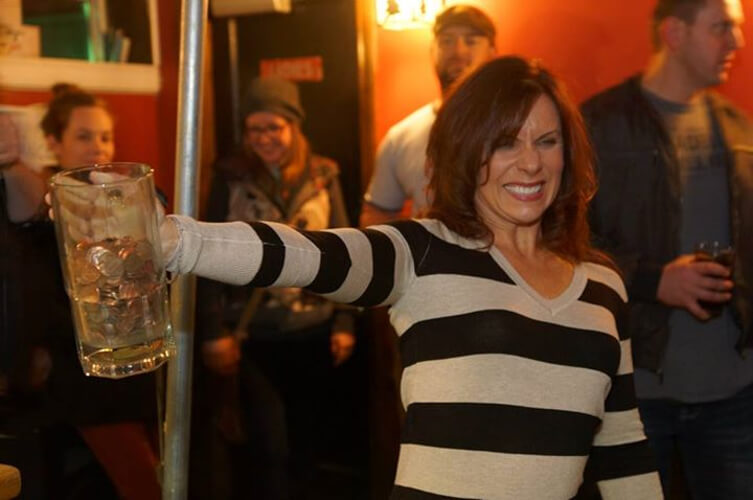 Beer
And it wouldn't be a Grey Lodge event without great beer. We will have a greatest hits of Christmas seasonals. The draft list will be updated as we get closer to Festivus.
Expected 2016 Festivus Draft List
Evil Genius Santa!! I Know Him!
Manayunk Festivus
Nodding Head Sled Wrecker
Shiner Holiday Cheer
Sierra Nevada Celebration Ale
Sly Fox Christmas
Spring House Egg Nog Stout
SweetWater Festive Ale
Troegs 2015 Mad Elf
Victory Winter Cheers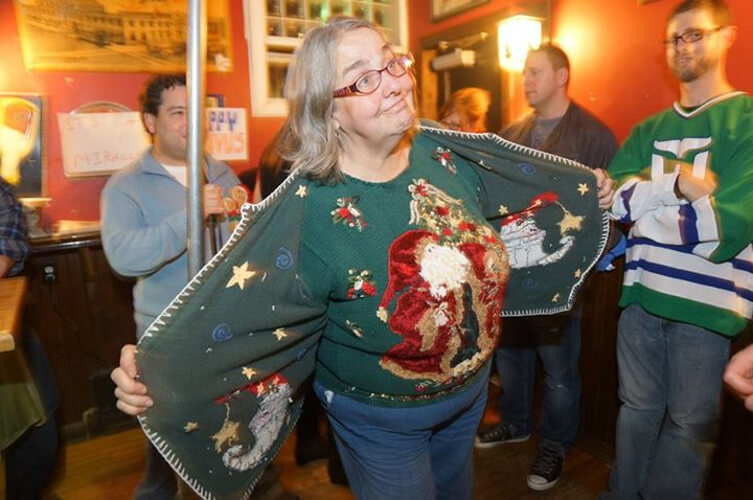 Festivus Festivities
Holidng the Big Mug o' Pennies Contest
Ugly Sweater Contest
Airing of Grievences
Arm Wrestling
Feats of Strength
Festivus Miracles Xmas Music - Surf Rock style by Rey Rico
The Story of Festivus
Here is a clip from Seinfeld for anyone who is unfamiliar with Festivus, or if you just want to watch that scene again.
We next celebrate Festivus on
Sunday, 18 December 2016,
6 to 10pm.
---